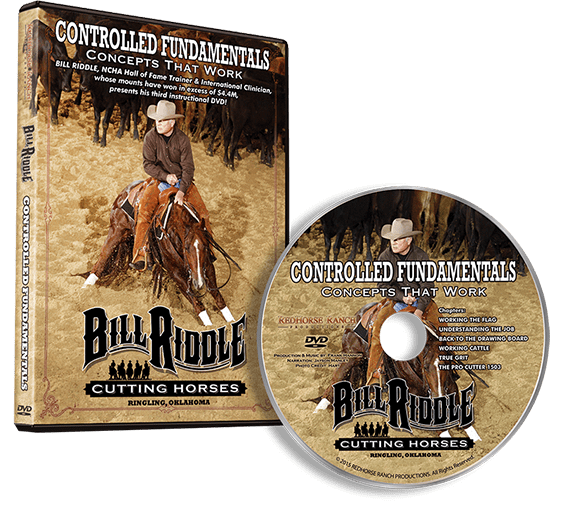 1-Disc DVD. All 4 Sections!
bill riddle's "CONTROLLED FUNDAMENTALS: Concepts That Work" dvd
Learn the fundamentals from NCHA Hall of Fame Trainer and International Clinician Bill Riddle!
Success in the cutting arena starts by teaching fundamentals to the cutting horse in a controlled environment. Using the flag works to create a strong fundamental base that helps the cutting horse understand & enjoy its job.
Critical basics and beyond for the serious NON PRO & AMATEUR!
Beyond the Basics-with Bill Riddle
NCHA Hall of Fame trainer, Bill Riddle is also a professionally trained clinician with superior teaching techniques and a compelling passion to teach today's aspiring horseman. He expands BEYOND THE BASICS from the … KNOW HOW to the KNOW WHY
BILL RIDDLE NCHA Hall of Fame Professional Cutting Horse Trainer for over 30 years
Earning in excess of $4,500,000
Hailed as cutting's most popular and respected clinician, BilI Riddle communicates beyond the "know how" to the "know why."